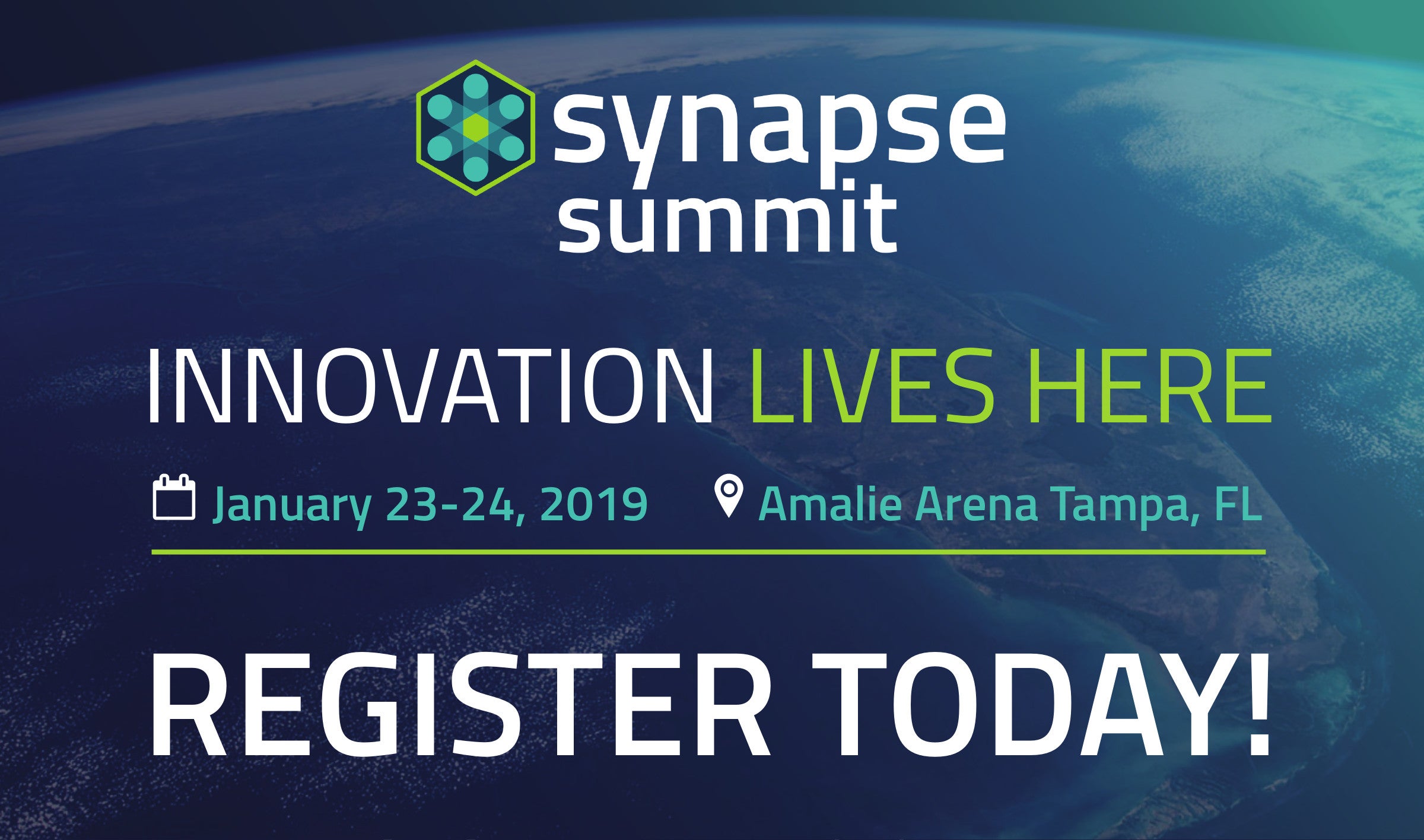 Synapse Summit 2019
Event Information
The 2019 Synapse Summit is a two-day celebration of innovation that brings together innovators from all industries and stages of development to connect technology, regionally-based innovation and entrepreneurial ecosystems throughout Florida. The 2019 Synapse Summit will host more than 5,000 attendees and feature more than 300 inspiring speakers, 60 breakout sessions, and 350 exhibitors, spotlighting a variety of transformative technologies including IoT, blockchain, augmented reality, virtual reality, cryptocurrency, robotics, artificial intelligence, machine learning, fin tech, digital health, urban tech, defense tech, arts and music.

More Info


Synapse Florida

The 2019 Synapse Summit is hosted by Synapse Florida, a 501(c)(3) nonprofit organization that serves as the central node of a statewide movement to connect the talented people and organizations that are fueling thriving economies across the state of Florida. Synapse was built around a ground-breaking methodology that connects all personas within the innovation economy and enables users to make personalized progress in their given field, while promoting a level of needed and desired community engagement. By connecting entrepreneurs, talent, investors, corporations, educational institutions, incubators, entrepreneur support organizations, service providers, and government, Synapse serves as an all-encompassing, interactive, and flexible methodology for accelerating, building, facilitating, and exposing the entrepreneurial ecosystem of Florida.


As our partners at Water Street Tampa continue to develop the 60 contiguous acres in the neighborhood surrounding AMALIE Arena, we ask for your patience and consideration when planning your visit to cheer on the Lightning or enjoy a concert or family show. We are pleased to report that the development project is well underway with a hotel and USF Health's Morsani College of Medicine in the midst of construction while we expect to see groundbreakings on several other projects. Roadways are being realigned, traffic patterns are changing and new transportation options are emerging - all with a vision of creating a more user-friendly environment in the blocks surrounding AMALIE Arena.
As you plan your trip downtown, we aim to keep you informed of these new developments, offering you all you need to know about arriving at AMALIE safe and on time for your event.
For the quickest arrival and departure, we suggest the following parking options.
Current Detours: Channelside Drive | Old Water Street
Please visit this link for in-arena dining options!
Prohibited Items + Camera Policy
​The following items cannot be brought into Amalie Arena events:
Bags larger than 12x12x12 inches, backpacks or wrapped packages
Cameras with a detachable lens and professional cameras are prohibited at all concerts. Video and audio recording devices and camera bags are also prohibited.
Binoculars are permitted. Binocular bags are not permitted
Laser pointers
Weapons of any kind
Bottles, cans, or containers of any kind
Sharp objects, sticks or poles of any kind
Fireworks
Pepper spray or mace
Food or beverage items
Drugs or controlled substances
Chairs, folding chairs or any other type of individual chair for use
Large banners or signs, banners or signs with objectionable language, banners or signs on a pole of any kind
Noisemakers and horns
Keep in mind that Amalie Arena will utilize a variety of search techniques at all entry points. Thank you for your cooperation.