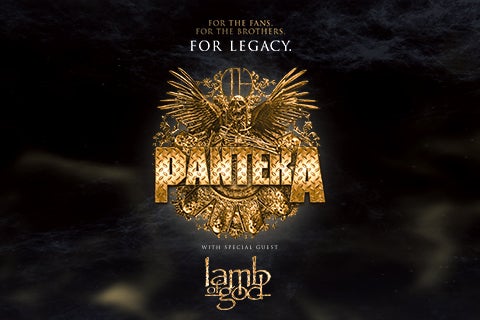 Pantera
with Lamb of God
Event Information
"When a newly restructured PANTERA took the stage at Milwaukee's American Family Insurance Amphitheater, the chorus of cheers that greeted them was a voluminous mix of both excitement and disbelief." -- Illinois Entertainer
"...a true tribute to the legacy of the Abbott brothers and the music they helped create. It is also a gift to the many fans that have gotten goosebumps from the raw power that PANTERA is able to harness like no other band." -- The Intelligencer
"...an emotional tribute to the music the quartet made." -- TribLIVE
"Anselmo, Brown, Wylde and Benante masterfully honored the band's legacy while embracing a new chapter, standing as a testament to the indomitable spirit of heavy metal. In a genre defined by resilience, PANTERA's triumphant return is nothing short of remarkable." -- All Music Magazine
"As PANTERA closed its set with the opening riff of 'Cowboys From Hell' playing behind them, Anselmo asked the packed stadium who would come to see them in the future. The response would be one of the evening's loudest." -- Dallas Observer
Creators of the "power groove," PANTERA got their start in Arlington, Texas with its best-known lineup consisting of founding members and brothers drummer Vinnie Paul and guitarist Dimebag Darrell with bassist Rex Brown and vocalist Philip H. Anselmo. The group would become one the most successful and influential bands in heavy metal history. To date, PANTERA has sold 20 million records worldwide and has received four Grammy nominations along with sold-out arena tours across the globe.
Plan for your event and learn more about parking, bag policies, prohibited items, and more.
The Concert Club
The Concert Club is the perfect addition to your ticket purchase and offers an all-inclusive specialty food and drink menu, showcases world-class service and friendly staff.
Please note, you MUST have a ticket to this event to purchase a ticket for Concert Club. This is an add-on package, not a ticket to the event.
Discover all of our arena dining option!