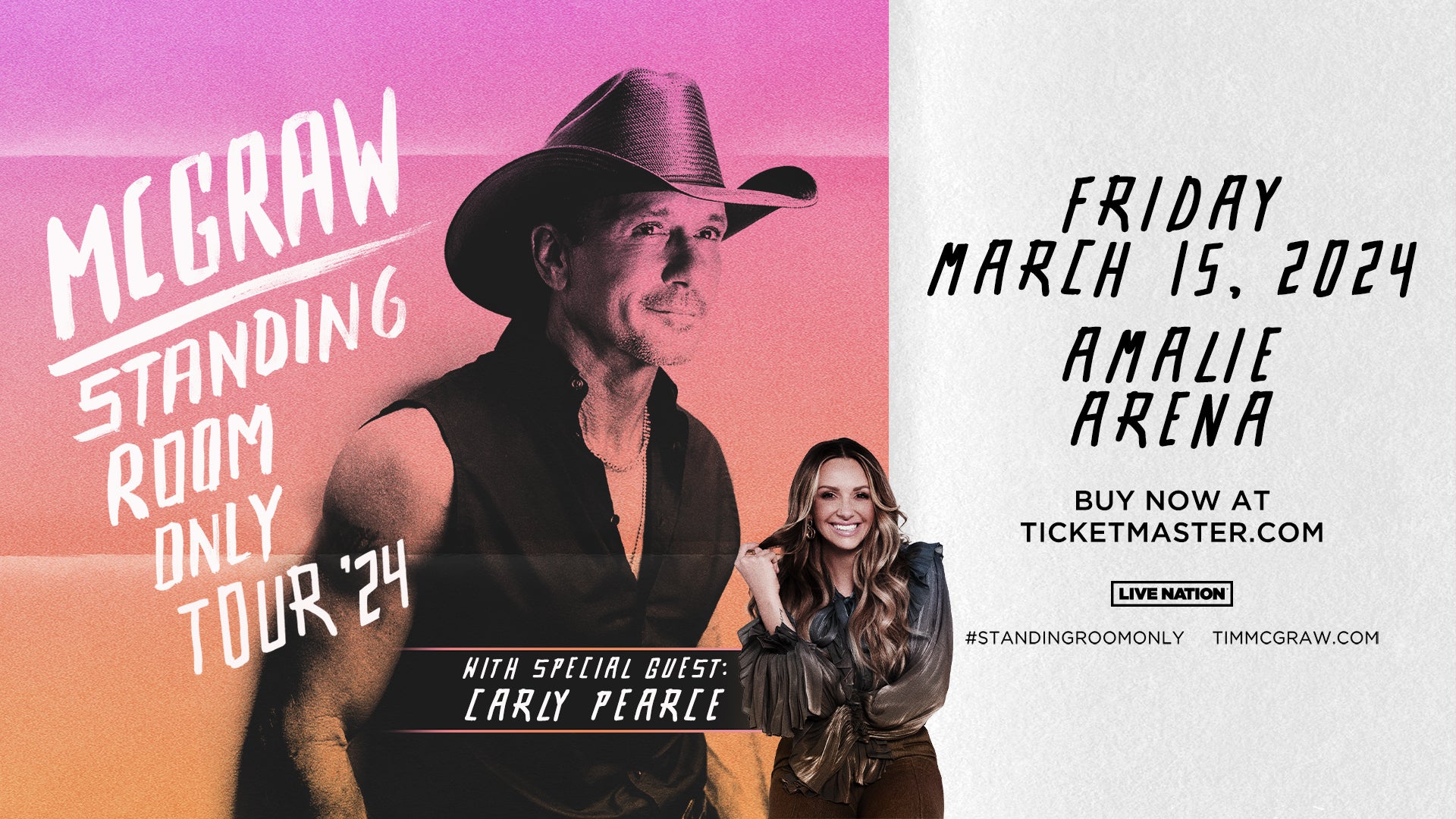 Tim McGraw
Standing Room Only Tour
Event Information
Produced by Live Nation, the Standing Room Only Tour will hit arenas across more than 30 cities. Grammy® Award winning singer-songwriter Carly Pearce will join the Standing Room Only Tour on all dates as direct support.
"I always want to deliver the best possible concert I can for the fans," said McGraw. "We've got some really special plans to make this the biggest and the best tour we've ever done."
Long proven as a titan of touring across a career spanning more than three decades, the Standing Room Only Tour promises more unparalleled, high energy live shows from McGraw. Featuring a huge production, his biggest hits and songs from his forthcoming 17th studio album Standing Room Only, the tour promises the most fun and memories of a lifetime.
VIP packages and experiences will include a variety of offerings, from an exclusive gift item to meeting McGraw, for fans to take their concert experience to the next level. Fans are encouraged to visit www.timmcgraw.com and become part of MCGRAWONE for more information.
On Standing Room Only, fans can expect an album full of McGraw's enduring Country sound, distinguished vocals and meaningful songs, as evidenced on previously released tracks "Hey Whiskey," and, most recently, "Remember Me Well," which was released on Friday, July 21. Standing Room Only marks McGraw's first new record since 2020's Here On Earth, which debuted at No. 1 on the Billboard Country Chart.
Throughout his career, McGraw has amassed 68 top 10s and holds the Mediabase record for the most weeks at No. 1 with all titles, totaling 73 weeks, and holds the record for second-most No. 1 albums in the U.S. just behind George Strait.
For Pearce, the Standing Room Only Tour announcement comes at an exciting time, she recently ushered in the next chapter of her musical career with her acclaimed new single "We Don't Fight Anymore" (feat. Chris Stapleton). With four No. 1 hits and dozens of accolades already under her belt, the 2021 CMA Female Vocalist of the Year and 2022 ACM Awards Female Artist of the Year is showing no signs of slowing down. With her latest release receiving high praise from fans and critics alike, she continues to resonate with her honest lyrics and timeless musicality.
About Tim McGraw
Tim McGraw has sold more than 90 million records worldwide and dominated the charts with 46 worldwide No. 1 singles and 19 worldwide No. 1 albums. He's won three Grammy Awards, 21 Academy of Country Music Awards, 14 Country Music Association Awards. His iconic career achievements include being named BDS Radio's Most Played Artist of the Decade for all music genres and having the Most Played Song of the Decade for all music genres. He is the most played country artist at radio since his debut in 1992, with two singles spending 10 weeks or more at No. 1. Known for his high energy concerts, he is one of the top touring artists of all time including the record-setting "Soul2Soul" tours with his wife, Faith Hill. An acclaimed actor, McGraw starred in and narrated the hit movie "The Shack" and co-wrote and performed the closing credit song for the Oscar winning documentary "Free Solo." His other movie credits include blockbuster hits "Friday Night Lights" and "The Blind Side. McGraw starred beside Sam Elliott and his wife Faith Hill in the Yellowstone prequel and three-time Emmy nominated 1883. McGraw has co-authored two New York Times Best Selling books, Songs of America: Patriotism, Protest and the Music that Made a Nation with Jon Meacham and fitness book Grit & Grace: Train the Mind, Train the Body, Own Your Life.
As part of the host committee, McGraw welcomed the largest outdoor crowd in Nashville history to his performance at the 2019 NFL Draft. He also appeared in the NFL Tailgate Party for Super Bowl LII and the College Football Playoffs 2020. His newest single, "Standing Room Only," just launched with the most first-week streams of any track in McGraw's career.
(TW/IG: @TheTimMcGraw, FB: TimMcGraw, timmcgraw.com)
Plan for your event and learn more about parking, bag policies, prohibited items, and more.
The Concert Club
The Concert Club is the perfect addition to your ticket purchase and offers an all-inclusive specialty food and drink menu, showcases world-class service and friendly staff.
Please note, you MUST have a ticket to this event to purchase a ticket for Concert Club. This is an add-on package, not a ticket to the event.
Discover all of our in-arena dining option!